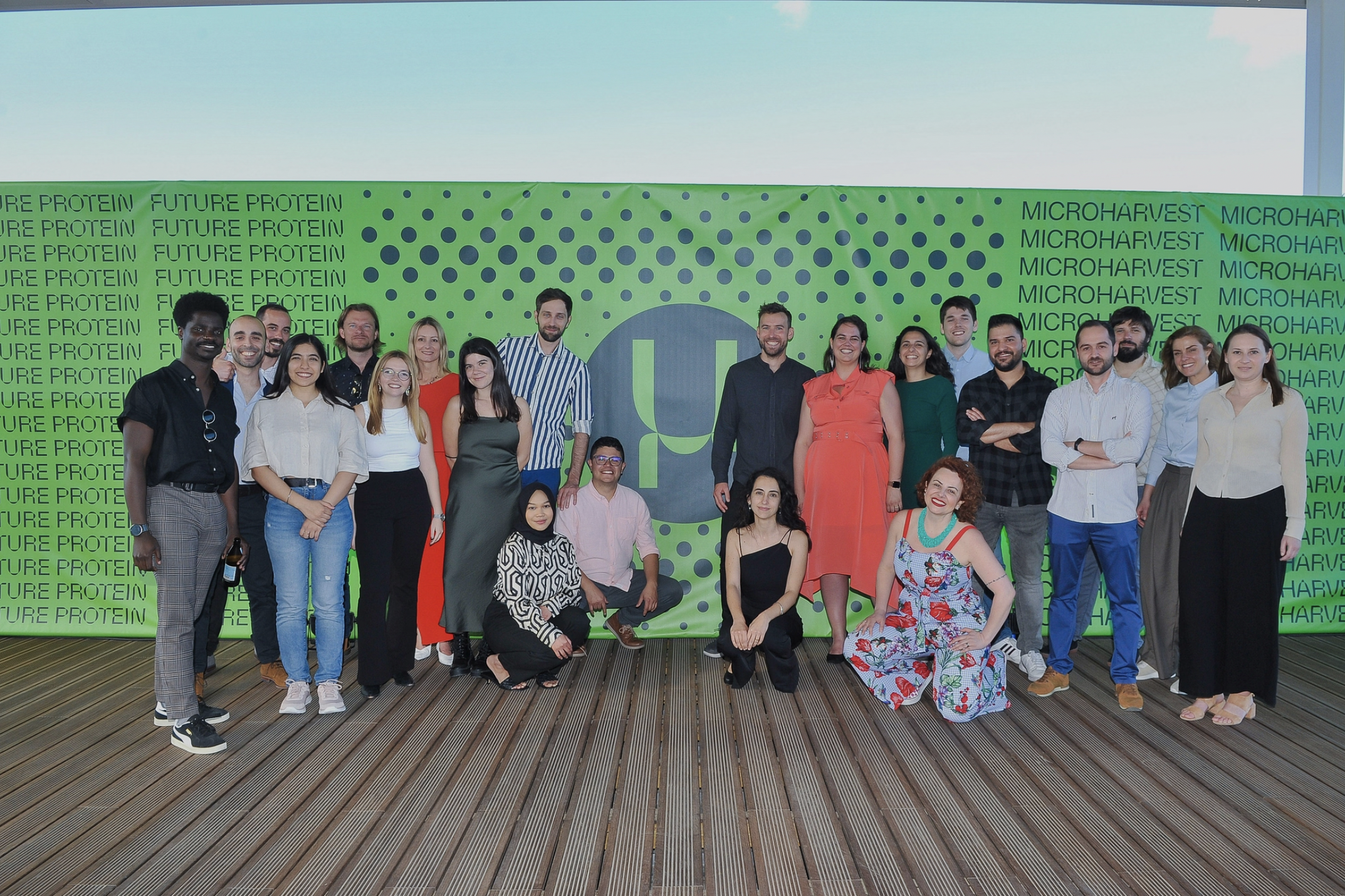 MICROHARVEST interview to founder Kate
---
MICROHARVERST, an innovative startup based in Hamburg and Lisbon that has developed a unique technology to exploit microorganisms to produce high quality food proteins, has been part of the Grey Silo Ventures portfolio for a few months. MICROHARVEST produces its ingredients 365 days a year in tanks that can be used anywhere in the world, with a 24-hour process from input to final product. We asked Katelijne Bekers, co-founder and CEO of MICROHARVEST, to tell us the recipe for their success, starting from the collaboration within the team and the relationship with partners.
---
What prompted you to embark on this entrepreneurial journey and why specifically in this field?
Food is a primary need and a basic condition to achieve equality: no development, education, or socio-economic advancement is possible in a country or region, without food security. I always knew that I wanted to make a difference, and do something big, sciences were the most effective way to drive change.  My background is in biotechnology: we do not per se work on agricultural land, but our work has massive impact in the availability of resources that can be allocated to ensure food security: our protein use less land and water, and have less CO2eq emissions, compared to what is available out there. Few know that 18M tons a year of fish are farmed, just to feed the fish that ends up on our tables, which also has an impact on biodiversity. We can grow protein from microorganisms in 24 hours, using a fraction of the resources that would be needed for example to harvest feed for cows or pigs and allocate land to farm them. What is more, our technology can be scaled, and it is not possible to drive impact meaningfully, without doing it at scale. MicroHarvest aims to provide an ingredient solution that can find applications along the whole protein value chain. Our first product will be launched in the aquafeed market, valued at USD 50Bn, in 2024. We further look at the petfood market, which is forecasted to reach of value of over 130Bn by 2030. MicroHarvest has the ambition to reach 1Bn by 2028.
What makes Microharvest's technology unique?
MicroHarvest produces protein ingredients through biomass fermentation, harnessing the power of the most efficient protein factories in the world: microorganisms. Our technology enables us to produce high-quality ingredients containing over 60% raw protein, rich in micronutrients, and without allergens. We feed selected strains of microorganisms naturally rich in nutrients using the locally available agricultural sidestreams. Our production facilities can be anywhere in the world, answering to the pressing needs of decentralized production. Moreover, our protein ingredients emit 99% less CO2 than beef-derived ones, 1/3 less than soy, and can be produced everywhere in the world, 365 days a year, in any weather condition. We use a fraction of the resources for a massive protein output: in one day, we can make ingredients with a raw protein content equal to 1,350 chickens, and in 1 month, we can replace 700,000 sardines used for fish meal! At scale, we will be not only price competitive but also highly consistent, an essential quality for our protein buyers. The current market for protein ingredients is still strongly linked to animal farming, which overall is linked to 14.5% of CO2 emissions globally, 26% if we consider the total agriculture industry. Alternatives can be found in soy-derived plant-based protein, but with a protein demand forecasted to grow by 50% in 2050, soy and plant-based protein will not suffice to reduce the impact of protein production. Soy fields have been linked to deforestation and still require vast resources- from land to water. MicroHarvest will not only offer a highly sustainable solution but also a consistent product at competitive price points that can be produced extremely fast, 365 days a year in any weather, everywhere in the world- allowing flexible, decentralized production.
What are the biggest accomplishments achieved in these early months of existence?
Within just over two years, we went from lab scale to being able to produce 3 tonnes per week with a commercial partner, which positions us to go to market as early as the beginning of 2024- a remarkable speed to achievement in the fermentation-enabled protein space. To further support that, we completed feed tests with shrimp earlier this year, with great results. To support all that, we grew the company to a team of 25, which is partly located in our second hub in Lisbon.  
What goals are you aiming for in the next year?
First, we are planning to bring our first product to market beginning of this year, awaiting regulatory approval. Furthermore, we will we working on the further development of our single cell protein products. To enable that, we are finalizing the building of a pilot plant in Lisbon this year, which will be used to produce different prototypes for further product development. With our milestones checked, we will also start raising funding again to expand our production and further grow the company to become a global player in protein.
What are the most challenging obstacles, and how do you plan to overcome them?
When developing novel technologies and products, challenges associated with the scaling of product production are to be considered. However, this is where MicroHarvest's unique technology stands out. It allows us to produce at a speed and efficiency beyond currently solutions. And the great thing is that to kick off, we can use current-day industrial bioreactors, that are already commercially available. The potential demand is there, we already have received and increasingly do receive attention from large industry players in several verticals, from aquafeed to pet food manufacturing, that are expressing their interest in the nutritional profile, scalability, and potential of consistency our products. The regulatory approval processes for novel ingredients in Europe certainly are not the easiest or faster to go through. Often regulators lack the resources and flexibility to review the large volume of novel ingredient applications, and this causes unnecessary delays, which we hope will be fewer and fewer as sustainable protein alternatives go to market in other geographies.
What kind of support do you envision receiving from a strategic investor like GSV?
GSV are producers and suppliers in the B2B ingredients market, so MicroHarvest can hugely benefit from their in-depth knowledge and experience in production and commercialization. GSV also brings invaluable knowledge and insights into the industry and the network to effectively launch a new ingredient product into the market.
---
Any views or opinions reported in this interview are personal and belong solely to the respondent and do not represent those of Grey Silo Ventures or any other organization.